A quick review - this system is accessed via the web at the following address:
To access this system you will need two things:
1) Username - which is usually your email address with the "@" replaced by "_" (an underscore)
2) Password - this is a uniquely generated password here at Dog Ear
If you are an active Dog Ear Publishing author, you should have received an email with both of these items included. If you did not - or if you have lost the email - please contact us and we'll send you your login and password.
Here's a quick video overview of the system -
Each section is outlined below.
AUTHOR WEB - AUTHOR 'HOME' PAGE
Once you have logged in to the system, the first section lists the various titles you have published with Dog Ear. From here you have several items you may click on - our focus here is the sales data for your books.
To see a project's sales data, click the button labeled "View" to the right of the project title. IF your book is complete through production, you will be taken to the Project Sales Totals page. (If your book is still in Production, you will be taken to the Production Status page)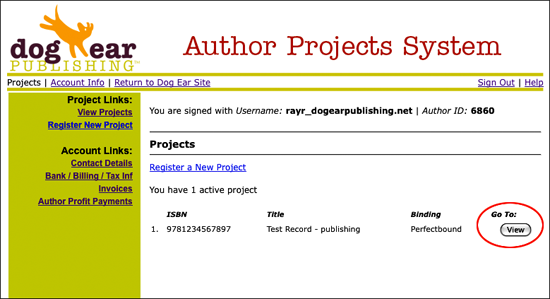 AUTHOR WEB - SALES PERIOD
Arriving at the Project Sales Totals page presents you with a page where you choose a desired sales period to view. A drop-down list provides a choice of all current sales periods. Note that a month's sales are not generally available until about 15 business days after the close of the fiscal month.
To choose a sales period, simply click on the drop-down menu, choose a sales period, then click the "View" button to the right.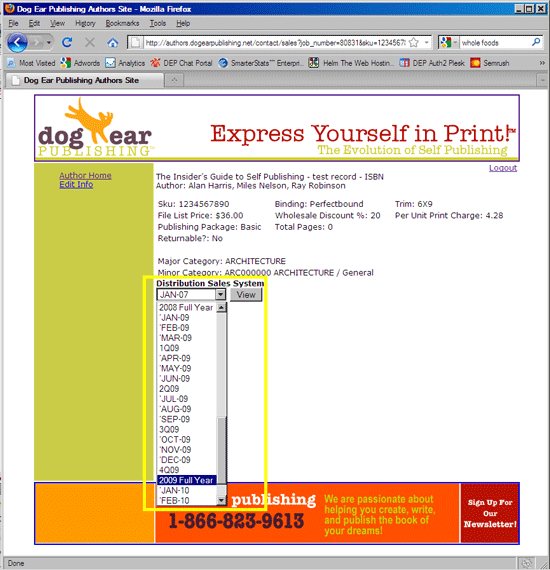 AUTHOR WEB - SALES DATA DISPLAY
Clicking "View" after choosing a sales period delivers a report of all sales from that time period. Below is an example of what a sales report might look like. Note that there are several sections to this report - that all combined equal the Grand Total sales for the book.
There are 2 ways book sales are generated:
Through Distribution - these sales come from our major retail and wholesale partners, such as Amazon, Barnes & Noble, Ingram, Baker & Taylor, etc.

'Direct' from Dog Ear - these sales occur in the following ways:

via your Author Bookstore (Open For Business, Masterpiece, Book-O-Mart)

via a page on our site, your author ordering link, a standard author web site, or anywhere you've placed a 'direct' order button

from any account or specialty sale (such as a corporate sale) that has occurred direct from Dog Ear Publishing
We'll discuss each section below the image.
Grand Total - the total number of sales through all channels.
Distribution Total - total sales through distribution - accounts like Amazon, Barnes & Noble, Ingram, etc. These are the books sold through our distribution partners.
Direct Sales - these are sales from either the Dog Ear sites or an author web site that are fulfilled directly by Dog Ear Publishing. This also includes 'special markets' sales - like independent bookstores that may call us directly for your books. Direct Sales are those sales that do not go through our distribution partners - including author purchases, web site orders from both an author's site or Dog Ear's site, Open For Business orders, and any miscellaneous purchases directly from Dog Ear.
Direct Sales 'sub-categories' - direct sales break out even further, depending on how the sales have arrived at Dog Ear.

Dog Ear Author Link - these are most often books you have purchased directly and at cost, sales through the Dog Ear site, or sales from the ordering link we provided you.
Author Bookstore System - these are sales from one of our Author Shopping Cart sites (Masterpiece, Open for Business, or Book O Mart). If you have one of these marketing products from Dog Ear, your author orders will most likely show up here.
Dog Ear Buy Direct Link - these are sales generated by Dog Ear and fulfilled by Dog Ear via marketing or partner sites.
Dog Ear Special Markets Distribution - typically these are 'special' sales that are from small independent bookstores or other retail outlet.
This is an evolving system - so please don't hesitate to ask questions or send us your comments!
The Dog Ear Publishing Author Team