In self publishing, awareness and marketing are critical components of generating sales for your book. We have a variety of Promotional Materials available to help support your marketing efforts, increase awareness of your book, and boost your sales. You can order greater quantities of anything you see here. Looking for something you DON'T see here?
A NOTE ABOUT DESIGN:
If promotional materials are NOT included in the publishing package, there is a $50 design fee for the first item and $25 for additional items (for example, if business cards and bookmarks are ordered, the total design fee would be $75.)
Classic Book Marketing Promotional Materials Bundle: $225

(A $285 VALUE)
Full color printed marketing materials are an excellent local-marketing tool. Full color posters, postcards, and two sided business cards are professionally custom-designed with your book cover, web site address, contact information and other important details. All of these materials are completely customizable. (On the business cards, front is full color, back is 1-color.)
25 Posters

250 Postcards
2,000 Business Cards

Business Cards
Full color, two sided business cards professionally designed with your contact information, book cover and summary. Business cards are completely customizable. (Front is full color, back is 1-color.)
500 - $25.00
1,000 - $50.00
2,000 - $75.00
Postcards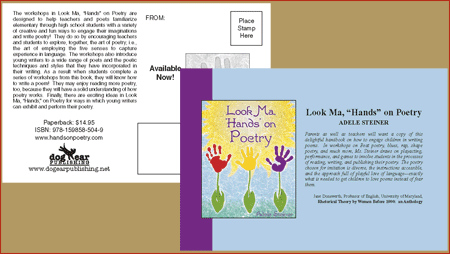 Full color postcards are a great way to promote your book. Mail-ready postcards are completely customizable and professionally designed by our creative team. (Front is full color, back is 1-color.)
100 - $50.00
250 - $75.00
500 - $100.00
1,000 - $175.00
Bookmarks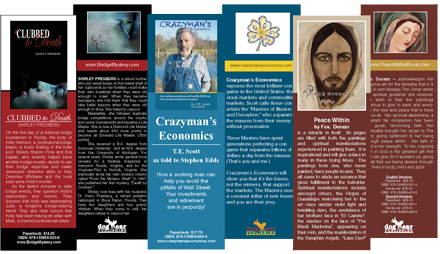 Full color two sided laminated bookmarks are effective marketing tools. One side of the bookmark consists of the cover of your book, its title, a brief summary, and ordering information. On the other is your photo, name and short biography.
100 - $60.00
200 - $100.00
500 - $190.00
Posters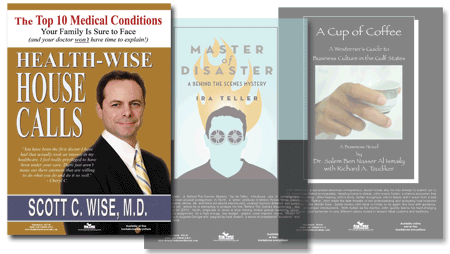 Available in sets of five, these 11" x 17" full color posters make great displays for book signings. Printed on heavy stock and shipped in a protective tube, these posters feature the cover of your book and ordering information. (We also have different sizes and orientations to offer, but please call for pricing.)
25 - $75.00
50 - $112.00
100 - $135.00