Cost:
$400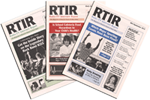 As a leading provider of publishing services, Dog Ear Publishing is thrilled to offer marketing solutions that increase media interest in and bolster brand awareness for our authors. The Radio TV Interview Report (RTIR) is a perfect medium to do just that.
Are you an expert in your field or on a topic?
If so, advertising through the Radio TV Interview Report e-zine may just be the best way to break out and be recognized as a thought leader in your discipline. RTIR has been called the "Bible of the Industry". It's the source producers and national media people use to find and book interesting guests for their programming needs.
Over 1,500 producers receive the publication, twice a week.
You come up with the hook and write your ad copy. RTIR will edit it, and schedule it for release.