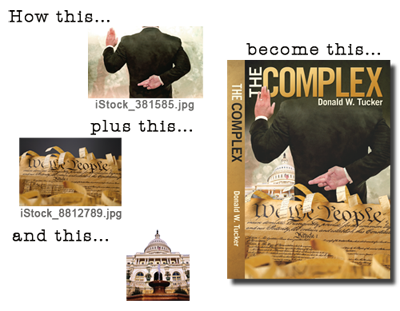 "What I'm looking for is a dynamic cover revealing what could happen if subversive political groups attempt to use law enforcement to control our democratic political process to eliminate opposing political ideas and thought; targeting minorities, women and ethnic groups for extinction, thereby shredding our constitution."
Donald Tucker - Dog Ear Author, cover concept email
---
As everyone knows, a picture is worth a thousand words...
And this is particularly true when it comes to building the cover for your book. Developing a cover concept can be very challenging—especially since authors typically have no design experience.  Fortunately book cover design IS something at which Dog Ear Publishing has LOTS of experience.
But we need your help to create a great looking cover that is exactly what you want and expect for your book. We need you to communicate your vision to us and provide some simple, basic images upon which we can build.
As you can see from our above example, some very basic images can become an amazing cover. Dog Ear has a relationship with iStock by Getty Images (Royalty Free Images) that enables authors to research and identify images for us to use in creating their book cover design.

This website offers thousands of stock images for authors to choose from.  

Please visit this site and spend some time browsing the images. Chances are you will find one that is perfect for your book cover.  Once you find one that represents your cover concept, please write down the number of the image.

There is no reason to purchase this image, please just contact your author representative, by phone or email, and tell him or her the number.  We will then purchase this image for use in your cover.
As you scan through the images on the website, we encourage you to approach the idea from at least 5 different "angles." Search for a few emotions you would like your book to communicate. Examples might be unity, anger, spirituality, or happiness. Then search for a few specific terms like man on chair or cute dog.
Please take your time looking through these images—there are thousands.  This really is an opportunity to help our designers create the cover you have dreamed of.