Dog Ear Publishing is very pleased to introduce our web-based Author Project System (APS)!
This system allows authors to manage their book project at anytime, and is accessed via the web at the following address:
To access this system you will need two things:
1) Username - which is usually your email address
2) Password - this is a uniquely generated password here at Dog Ear
As an active Dog Ear Publishing author, you should have received an email with both of these items included. If you did not - or if you have lost the email - please contact us and we'll send you your login and password.
Here is an overview of the system - each section is outlined below, with links to the appropriate explanation page.
LOG IN PAGE
To log in you will use the Username and Password are assigned by Dog Ear during the production process. Do NOT create a new user account, you will not be able to access your section within the project system - contact us if you do not have your Username and Password. You CAN attempt retrieve your account details by clicking "FORGOT MY PASSWORD" and entering your email address with the @ symbol replaced with an _  - for example, name would become name.
THE AUTHOR 'HOME' PAGE
Once you have logged in to the system, the first page lists the various titles (Projects) you have with Dog Ear Publishing.
To order copies of a specific title, you will navigate to the page for that Project by clicking the button labeled "VIEW" to the right of the project title (under the words Go To).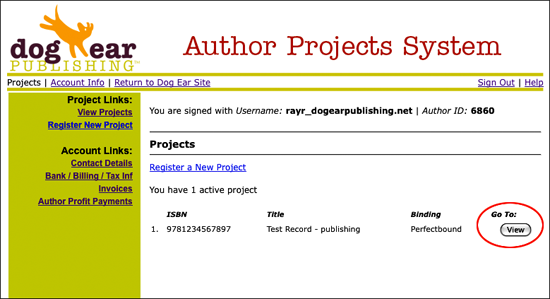 This button will take you the Project Detail page. The "PROJECT FILES" button is in the upper left corner.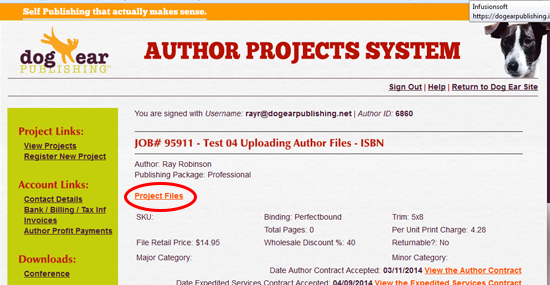 Clicking the "PROJECT FILES" button will take you directly to the page on which you'll upload your files.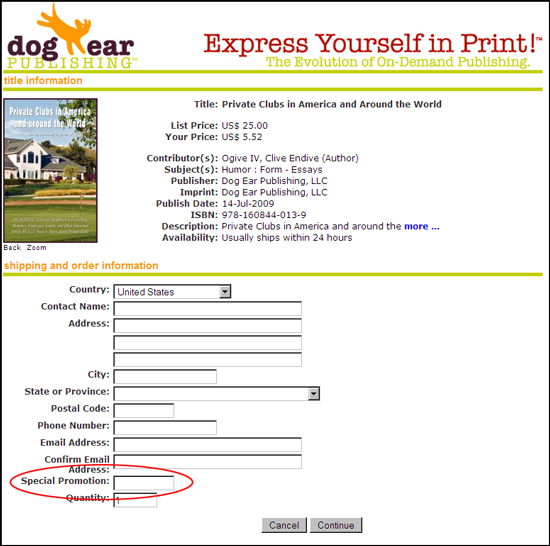 Click here to access help for the Project Status system.
Click here to access help for the Sales Status system.
This is an evolving system - so please don't hesitate to ask questions or send us your comments!
The Dog Ear Publishing Author Team