How To Get A Book Published
The paths to getting a book published are more varied than ever in the history of book publishing. Any author exploring how to get a book published will be met with myriad paths and literally millions of search results. This article will help identify one of the many answers to the question of "how to get a book published."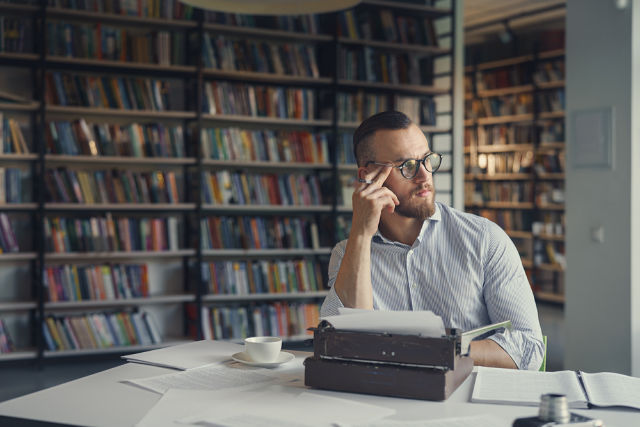 There are three ways to get a book published:
Traditional Book Publisher
Traditional book publishers purchase the rights to a book from the author. A royalty is negotiated, a book contract is written up, and the traditional book publisher takes on the responsibilities and costs of getting the book published. In the past, this has been the dream of every author.
When seeking out a traditional book publisher, you will need to first secure an agent and persuade them that your book is worth marketing to the traditional publishers (authors cannot approach traditional publishers directly). The author writes a query letter, perhaps a marketing outline, and the sends queries to agents. If an agent accepts your work, they will attempt to market your book to publishers. If a publisher is interested, they will pay you for the right to publish your work. All of the costs will be covered, and you'll receive some sort of advance against future royalties.
But it's a LOT of 'ifs' - and less than one percent of manuscripts submitted to agents and publishers are ever accepted for publishing
Thankfully, times are changing, and it's only one of several ways  to get a book published.
Hire a Book Publisher
There are literally thousands of companies that an author can hire to help get his or her book published. Like any large industry, self publishing companies have a variety of services and costs. The main rule to remember is that you will be footing the bill for the cost of publishing.
Truly "Self Publish"
Some authors have the desire to manage each and every aspect of the publishing process, from editing to design to distribution to marketing. These authors hire all of the independent parts of the process themselves, relying on freelancers or other contractors to produce the book. They then establish relationships directly with distributors and retailers to sell their book.
So What's the  Best Answer to "How to Publish a Book?"
For MOST independent authors, hiring a book publisher is going to be the most effective and efficient manner to get a book published.
And whichever method you choose, there are still just five basic steps to getting a book published.
The 5 Steps of Book Publishing
Before an author should approach publishing, he or she needs to follow five basic steps. This will ensure that the entire publishing process moves fluidly and accurately for your specific book.  These five steps all occur AFTER you've written your manuscript.
Identify your target audience / category / genre
Choose how to get your book published
Prepare the materials you will submit to the publisher
Identify the best book publisher for your book
Identify your target audience / category / genre
Fiction or nonfiction is the easiest piece to identify. It gets a little more challenging from here, and really involves writing a book marketing plan. In all cases it really is best if you've finished writing. Choosing a genre / category for your book will help your publisher identify effective ways to market your book to readers. Be careful if you cannot categorize your work - while it doesn't mean it isn't a great book , it does mean it will be challenging for a publisher to market. A great way to find the right genre / category for YOUR book is the browse the Barnes & Noble book categories in your local store (because I love 'real' bookstores and the experience they deliver to an author) or the B&N website.
Choose how to get your book published
There are many ways to the market, as discussed above. Each requires a different approach, but the materials used are very similar. It's a matter of honestly evaluating what you WANT to do, what you CAN do, and exactly how much time / effort / control you would like over the process. The good news is that you can explore all the paths to getting a book published pretty much at the same time. Don't be shy, ask questions, make calls, and do your research.
Prepare the materials you will submit to the publisher
All book publishers require very similar materials when you submit your book for publication. And even if the publisher you choose doesn't specifically ask for everything you've created, having it will make you a more informed and better-marketed author.
Here are the 'start-up' materials you should prepare as you search for a company to publish your book:
Book Marketing Plan
- This multi-page document outlines the core details of your expectations and goals for your book. It identifies reader, market, and opportunity. Your book marketing plan becomes your bible for marketing your book. It is a living document that will evolve as you book is published.
Book Synopsis
- Your summary. Elevator pitch. It's NOT your back cover copy (because it reveals the ending). All of these things rolled into one so that everyone involved in the process knows exactly what your book is about. Here's an article on writing book cover copy.
Author biography
- Your biography as an author. Your bio should focus on who you are as a writer, and not wander into details that aren't relevant. You DO want to create a relationship with your reader, but don't stray too far from what makes you the exactly perfect person to write the book you wrote. Here is another article on writing back cover copy.
manuscript
- The all important part. Make sure you follow standard formatting rules, and we outline these here.
Identify the best book publisher for your book
Choosing how to publish a book is closely follow by how to find a good publisher of books for your manuscript. Choosing WHO to publish your book is as critical as any part of the process.. It's a long a convoluted conversation, but some basic rules apply. I've written extensively on how to choose a publishing company, and you can see that article here.
The things you MUST consider when exploring how to find a publisher are:
Contract
Control of Retail Price
Author Book Cost
Author Profit
Publisher Staff Expertise
You should discuss each of these in detail with your publisher.
Closing Thoughts on How to Get a Book Published
Every author dreams at some point of holding a book in their hands. A physical, tangible, smells-link-ink-and-glue book. And every author dreams of seeing their  book on a bookstore shelf. The paths to getting there are complex, and challenging, and often frustrating. But the reward is incredible. Pursue your passion for publishing your book, and in many ways the rewards will be truly worth the hard work. Good luck, and if you have any remaining question on how to get YOUR book published, feel free to reach out.
Why Dog Ear?
Promoting your book and your brand may be new to you, so having experts to guide you in developing a solid marketing strategy is an invaluable resource. With more than 50 years of traditional publishing experience, Dog Ear Publishing knows what it takes to promote authors and their books. Our team of experienced editors, proofreaders, and designers can help refine your work into a top-notch finished publication. Your book should be a quality reflection of who you are as an author.